"Iron Butt" Ferry Crossing Record attempt:
(yes, all of the jokes have already been thrashed to death...)
12 in 24 hours > 1000 miles
18 in 36 hours > 1500 miles
19 in 48 hours > 2000 miles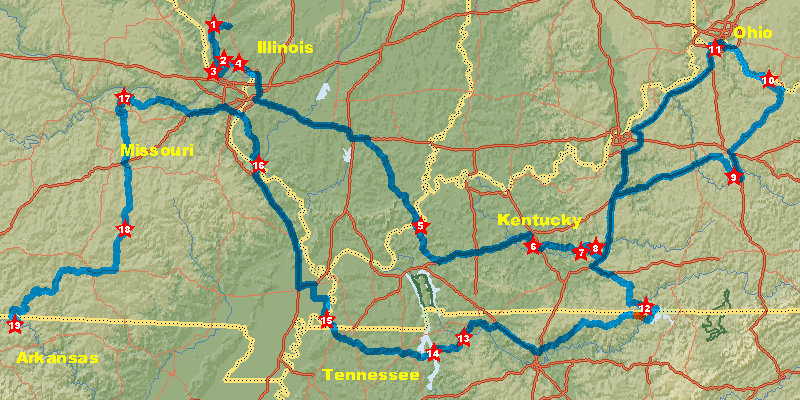 Click here for the gory details, with LOTS of pics!
Result: High water levels in the Spring and Summer of 2010 kept some of the ferries closed and delayed the attempt. I finally started early Friday morning September 24th 2010 in Carrollton IL, and finished 1,600 miles later Saturday afternoon in St. Clair MO. The bad news is that unscheduled ferry outages kept me from meeting my goal.

But the good news is that I had a great ride, the carefully planned route worked very well, I met some neat people, and I crossed some ferries I'd never seen before.

Even with the ferry problems and a lot of rain on Friday I crossed 15 ferries in under 36 hours, beating my old record by one, including tying my old record of 11 ferries in the first 24 hours.

The day before the ride I learned the Akers ferry was temporarily down. When I arrived at the Reed ferry it was unattended for some unapparent reason. And when I got to the Fredericksburg ferry on Saturday afternoon I found it closed due to high water [note: it has since closed permanently]. Argh!

So, as I was already well over the 1500 mile mark in under 36 hours and I'd already lost 3 ferries, I decided to pull the plug rather than carry on the 500 more miles it would have taken to get to the Peel Ferry and back home.
It was time to hit the ferries again. My 2008 attempt went well, but I later figured out some major tweaks to the route. If the weather and the ferries cooperated, I hoped to up my total to 19 in the BB1500, including 12 in the SS1000. Unfortunately in 2009 Fall weather intervened and I was unable to make my attempt before some of the ferries went on shortened winter hours, so my window of opportunity closed until Spring 2010 before I could try again.
I had hoped that other LD riders might take a stab at breaking my old record of 14 and 11... but so far it looks like I am the only one susceptible to this particular disease. Maybe I made it too easy. Let me see if putting the bar a little higher makes it more interesting.
Inland ferries are a unique but threatened bright spot on the American roadscape - so I hope this ride captures the imagination of others and helps raise awareness of these gems of the back roads.
The Ferries:

1 Kampsville, IL

2 Brussels, IL

3 Golden Eagle, IL/MO

4 Grafton, MO/IL

5 Cave In Rock, IL/KY

6 Reed, KY

7 Houchins, KY

8 Green River, KY

9 Valley View, KY

10 Augusta, KY/OH

11 Anderson, OH/KY

12 Turkey Neck Bend, KY

(24 hour mark – SS1000)

13 Cumberland, TN

14 Houston-Benton, TN

15 Hickman, KY/MO

16 Ste Genevieve, IL/MO

17 Fredericksburg, MO

18 Akers, MO

(36 hour mark – BB1500)

19 Peel, AR

(48 hour mark – SS2000)